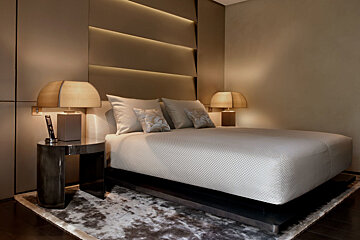 © Armani Hotel, Milan - Centre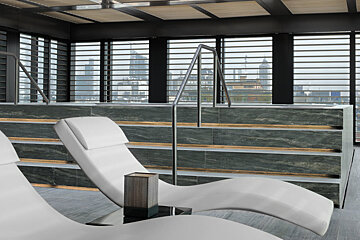 © Armani Hotel, Milan - Centre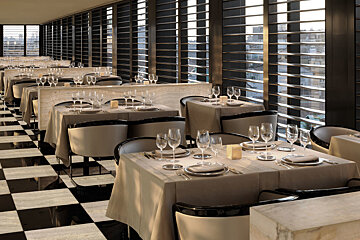 © Armani Hotel, Milan - Centre
Armani Hotel, Milan - Centre
Luxury hotel in the centre of Milan
5-star hotel designed by Giorgio Armani located in the heart of Milan. Dine at the Michelin-starred restaurant with panoramic views of the city and relax in the luxury of the top-floor spa.
Every detail of the Armani Hotel Milano has been designed from top to bottom by the legendary Giorgio Armani and follows his signature crisp, chic style in to finest detail.
The hotel has a wide selection of suites beyond the spacious double guest-rooms and all are provided with a range of Armani amenities. The views from the restaurant, bar and top-floor spa all provide memorable vistas across the city centre.
Worth knowing
One of the unique dining experiences available is the Couple Suite, a secluded dining area that can be booked by guests for a candlelit tasting menu in total privacy.
The Bar
The Bamboo Bar is an ideal place for a relaxed lunch, an evening cocktail or to enjoy the Sunday brunch menu. Every Friday evening, the Bamboo Bar hosts 'Sparkling Friday' with champagne and a selection of fine dining finger food.
The Restaurant
The Michelin-starred restaurant gives diners choice from an a la carte menu or tasting menu, and draws on classic Italian dining and quality fresh produce.
Visitor comments
"Armani Hotel Milano is one of the BEST hotel experiences I've ever had. Amazingly high quality in every aspect, from check-in to check-out. Located centrally and a true inspiration in its design, service, professionalism and experience. Will definitely go back and also recommend to others." - Trip Advisor
"Incredible hotel, incredible service. Never been in a hotel like it before. The whole hotel was perfection and made a perfect getaway." - Trip Advisor
"Very good stay. Mostly to expectation, since it is a 5 Star establishment. Centrally located, close by to the Fashion shops and boutiques. Close by the Grom gelato shop as well, if you are inclined towards ice-cream." - Trip Advisor
Location