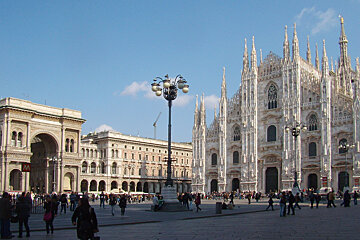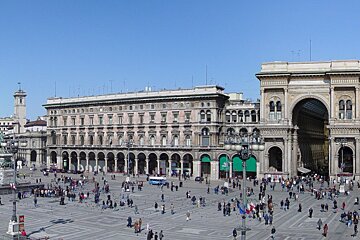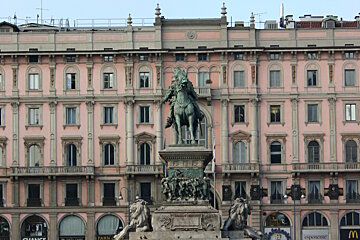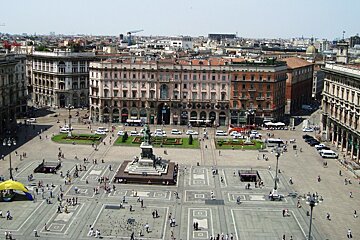 Piazza del Duomo, Milan - Centre
The cultural & social heart of Milan
This sweeping square, the grandest in the city, is flanked by several famous sights and landmarks. Most notably the Duomo cathedral, but also the 19th-century shopping arcade the Galleria Vittorio Emanuele II and the 18th-century Palazzo Reale.
In contrast to the historical buildings, it also features the modern twin buildings of the Arengario, a government building erected during the Fascist era.
The origins of the Piazza can be traced back to the 14th century, when Azzone Visconti, lord of Milan, ordered the demolition of the taverns that surrounded the basilicas of Santa Maria Maggiore and Santa Tecla. The square was enlarged throughout the centuries and redesigned in the 19th century. Nowadays it is dominated by a statue of King Vittorio Emanuele II of Italy
It is located in the city centre and is easily reached by the metropolitan railway. Forming the hub of the city, where many of its principal thoroughfares intersect, the Piazza del Duomo, a popular habitat for flocks of pigeons, is strolled and strode across by literally thousands of people, tourists and locals, every day.
Visitor comments
"It was great to visit Milan in December because there was a giant Christmas light by the Piazza del duomo which added to the amazing atmosphere of the place. You can admire the great Milano Duomo as you stand by the piazza admiring the beauty of it." - Trip Advisor
"This Piazza is very lively and just beautiful with all of the birds. We were lucky to be there for Carnavale and experience all of the children dressed in costume and spraying confetti and foam while dancing in the Piazza!" - Trip Advisor
"Great environment, fantastic views around Duomo especially night time with the beautiful light around the area." - Trip Advisor
Location