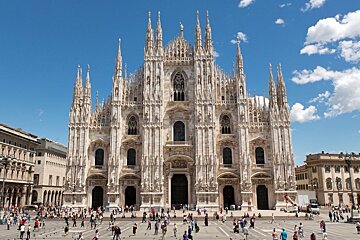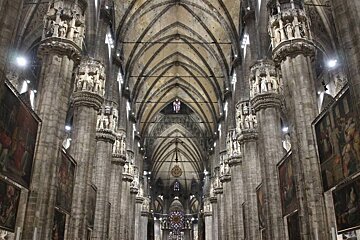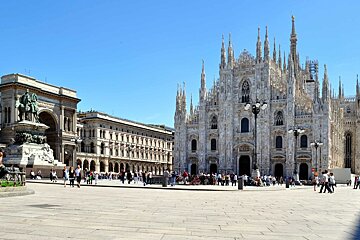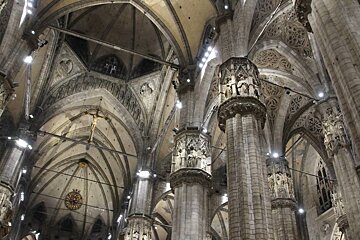 Duomo (Cathedral), Milan - Centre
This 600-year-old work in progress is Milan's most famous icon
Located in the very heart of the city, the Duomo is the third largest cathedral in the world and Milan's most famous cultural landmark. Commenced in 1386, the cathedral was initially built in terracotta stone then continued in the white Condoglian marble (shipped from Lake Maggiore) that gives the building its striking crystalline beauty.
As well as its religious significance, the cathedral can be appreciated for its array of architectural styles, the work of generations of Lombard builders and architects. Marvel at literally thousands of statues both inside and out.
From the roof terrace a grand view, stretching across the city as far as the Alps on a good day, can be glimpsed through hundreds of Gothic spires. There is a Duomo Museum charting the history of its construction, as well as an exhibition of the archaeological digs on site.
Worth knowing
The cathedral nearly took six centuries to complete. The facade and many of the spires were finished in the 19th century, while the last gate was inaugurated in 1965. Even now, some uncarved stone blocks remain to be turned into statues.
Watch out for
This is the most important Gothic building in Italy and, accordingly, there are various noteworthy elements inside. Do not miss the 15th-century stained glass windows, the remains of the Paleochristian baptistery of San Giovanni alle Fonti & Santo Stefano, as well as the 4th-century Santa Tecla basilica in the archaeological area, or the chapel dedicated to archbishop San Carlo Borromeo in the crypt where he was buried, created in 1606.
Visitor comments
"Unbelievable! To think this building was started in the 14th century! Fantastic! Take the opportunity to enjoy the views of Milan from the highest points of the Cathedral. Got to be done!" - Trip Advisor
"One of the most beautiful and ornate buildings in the world. Highly recommend taking the roof tour. The views are spectacular! Don't forget to visit the food market in the plaza." - Trip Advisor
"This is a vision of Architectural majesty; Imposing, delicate & impossibly beautiful. A proud giant." - Trip Advisor
When to come
The cathedral is open daily from 08:00 to 19:00. The museum opens from 10:00 to 18:00 (closed on Monday). The terraces and the archaeological area are open from 09:00 to 19:00.
Ticket offices close one hour before the closing time.
How to get passes
Tickets to the Duomo cost 2€, including entrance to the cathedral and the museum. Tickets to the terraces cost 9€ on foot and 13€ by lift. The archeological area has an entry fee of 6€ (including the cathedral and museum).
There are passes including the terraces by lift and all the rest for 15€, or on foot for 11€. There are also discounts for children 6 to 12 years old. Children under 6 enter for free.
Location