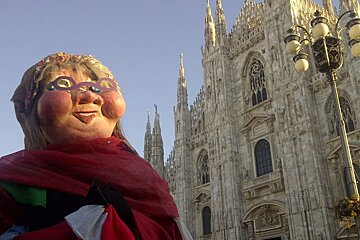 Befana flies over Milan tonight
The Italian Christmas Witch brings presents to children on Epiphany
Befana is Italy's traditional answer to Santa Claus or the Three Wise Men. An old woman who flies on a broom, she visits children on the night of the 5th to the 6th of January bringing small toys and sweets to those who have been good... and coal or garlic to those who have been bad.
The city of Milan celebrates her arrival with a colourful charity motorcycle parade on January 6th that will start at 08:30 in Corso Sempione. The Three Kings, the true stars of Epiphany, will have their own parade through the streets of Milan from 11:30 at Piazza Duomo. This traditional procession dates back to the 14th century and, this year, more than 120 people will take part in the event including knights, ladies and shepherds, ending in front of the Sant'Eustorgio basilica.
The family fun continues at Darsena Christmas Village with the ice skating show 'Epiphany Stars on Ice' at 18:30, and Il Villaggio delle Meraviglie where kids will be able to visit the Befana's house and give her their letters. In the meantime, keep looking up today and you might catch a glimpse of Befana flying over Milan.